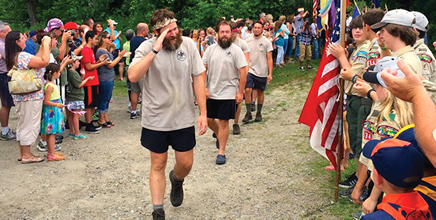 Completing more than 1,400 miles of their 2,186-mile thru-hike of the Appalachian Trail, six combat veterans and Warrior Hike founder Sean Gobin crossed into Dutchess County, where they were welcomed at a ceremony celebrating their arrival today. Congressman Chris Gibson, Dutchess County Executive Marc Molinaro, Director of the NYS Division of Veterans Affairs Eric Hesse, local officials, organizations, and community members were on hand to greet the hikers and express appreciation for their service.
Marine Corps Captain Sean Gobin founded the Warrior Hike "Walk Off The War" Program in 2012 to help combat veterans decompress from their wartime experiences. The Program expanded this year to three of America's National Scenic Trails: the Appalachian, Pacific Crest and Continental Divide. Next year Warrior Hike will expand again, to offer shorter hikes for veterans sponsored by state chapters that are currently forming across the country. 
"As a former Army officer who led troops overseas, I understand the challenges facing our returning servicemen and women who have fought to protect our freedoms," said Congressman Chris Gibson. "Warrior Hike gives veterans an important opportunity to connect with the natural world while hiking together to make a successful transition to post-military life. I want to thank the many volunteers who make this hike possible."
Also in attendance to honor the Warrior Hikers as they arrived in Pawling, and support them as they reconnect with home, were Town Supervisors David Kelly of Pawling, and Ryan Courtien of Dover; Village of Pawling Mayor Robert Liffland; and representatives of Dutchess County Tourism, Harlem Valley Appalachian Trail Community, American Legion Posts 1949 and 215, Veterans of Foreign Wars Post 5444, Daughters of the American Revolution, and Pawling and Dover Boy and Girl Scouts.
"We are honored to again welcome the Warrior Hikers to Dutchess County as they pause here during their amazing journey," said Dutchess County Executive Marcus Molinaro. "It is with great respect and distinction to meet these six hikers and hear their stories. On behalf of the nearly 19,000 Dutchess County Veterans and all of our grateful residents, we thank them for their service and the contributions they have made to our country, our way of life, and most importantly to the freedoms each and every American enjoys every day."
Since 2001, more than 2.3 million veterans have returned home from the wars in Iraq and Afghanistan, and for many, the transition is difficult: the Department of Veterans Affairs states that more than 20 percent of Iraq and Afghanistan veterans suffer from Post Traumatic Stress Disorder (PTSD).
"On behalf of Governor Andrew M. Cuomo and New York State veterans, I want to thank everyone involved in the Warrior Hike Welcome," said Eric Hesse, Director of the NYS Division of Veterans Affairs. "It is great to see so many people come out and support veterans as they "walk off the war." We appreciate the support by all in attendance today for these veterans, including the Harlem Valley Appalachian Trail Community, Dutchess County Tourism, Warrior Hike, Native Landscapes, Veterans of Foreign Wars, the American Legion, Boy and Girl Scouts, and the Daughters of the American Revolution. We thank these veterans—and all of our veterans—for their service and look forward to a safe return of those still serving abroad."
Hailing from hometowns across the country, the veterans are hiking the Appalachian Trail following the same therapeutic journey taken in 1948 by Earl Shaffer, a World War II veteran who told a friend he was going to "walk off the war" to work out the sights, sounds, and losses he experienced. Four months later, Shaffer became the first person to hike the entire length of the Appalachian Trail from Georgia to Maine.
"As someone who has hiked and explored so many areas throughout our region and beyond, I can understand and appreciate how this hike and the good camaraderie along the trails are so beneficial to our veterans," said Dutchess County Clerk Bradford Kendall. "I was honored today to be part of this ceremony in which we welcome our warriors."
The Warrior Hikers are expected to reach the northern terminus of Mount Katahdin, near Millinocket, Maine, on September 12.