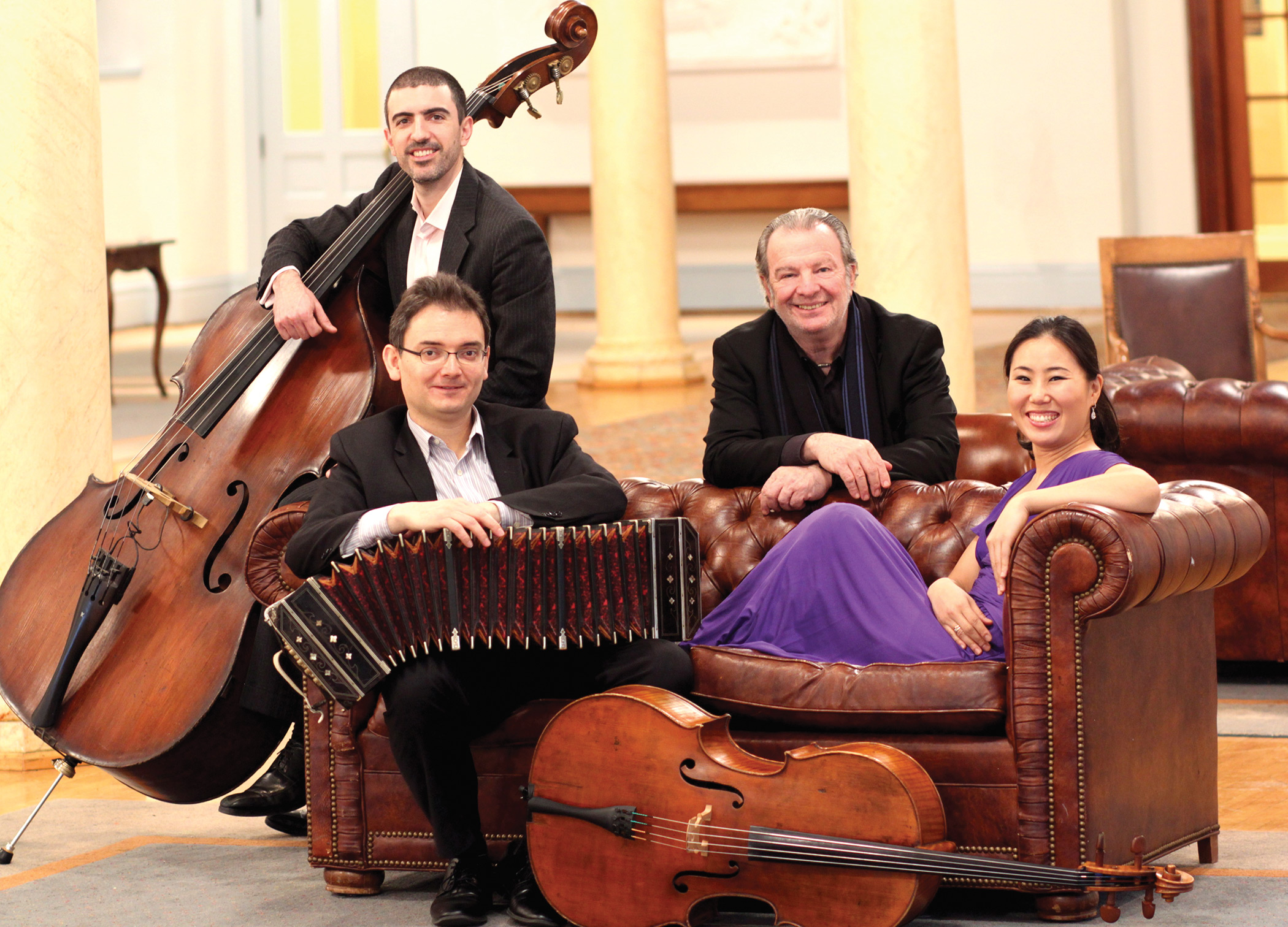 On Friday, November 13, the Pawling Concert Series presents the Argentine musical form , the tango, performed in a chamber music setting, a style that has matured over the years and has been enhanced by the many composers who have written for it. The Pablo Ziegler Quartet will perform in the Gardiner Theater on the campus of Trinity-Pawling School at 8 PM.
In the late 1800's the earliest tango music was made up of flute, violin and guitar or often played on a solo piano in brothels and cabarets. But it was the tango as a dance that introduced the music to the world and orchestras picked it up, slowed the pace a bit and it eventually became a lovely and elegant couples dance. Have you seen "Scent of a Women" with Al Pacino? Pablo Ziegler, currently the leading exponent of "nuevo tango", spent years as the famed composer, Astor Piazzolla's pianist, added a new style, more percussive, lyrical and with a jazz influence. The tango now is performed by the likes of classical musicians such as pianist Emmanuel Ax, and by jazzmen Paquito D'Rivera and Branford Marsalis. Ziegler has introduced the tango in a new setting, with a quartet of instruments, the piano, cello, double bass and the bandoneon, a type of concertina, essential in a tango ensemble. No matter how you hear it, the style remains a popular and evocative musical expression.
Bottini Fuel is helping to underwrite this unusual concert . Adult tickets are $30, students $15 and those 12 and under are guests of the Series. The Book Cove in Pawling has tickets and you also can purchase them with PayPal or at the door.  You might want to come early and enjoy a light supper of soup, salad and sandwich from  6 - 7:30 in The Cave located in the basement of the main building, Cluett. All buildings on campus are handicapped accessible and there is plenty of parking.
The holiday offering will be on Friday, December 18 in All Saints' Chapel with a male a cappella quartet, New York Polphony. Their repertoire covers medieval melodies to contemporary compositions. For more information visit pawlingconcertseries.org.
The Concert Series is made possible with funds from the New York State Council on the Arts and by Arts Mid-Hudson and with corporate sponsorship by Andron Corporation, Castagna Realty, M&T Charitable Foundation, Joseph Meunier & Sons and by Joe Pietryka Incorporated.