Saturday, September 7, 2019 - 9am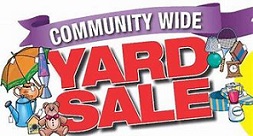 The 25th Annual Community-Wide Garage Sale will be held on Saturday, September 7, 2019, from 9:00 AM-4:00 PM  (Rain Date:  Sunday, September 8, 2019).  On the day of the event, you will be able to obtain a list and map of the 100 participants, at the Pawing Chamber of Commerce building on Charles Colman Boulevard.
Beginning on July 29, you can register at the Yarn & Craft Box, 24 Charles Colman Boulevard, Monday to Saturday, 10:00 AM to 5:00 PM.  
For further information, please contact:  Marie Stewart at the Yarn & Craft Box at 845-855-1632, between 10:00 AM to 5:00 PM, or Loraine Maggio at 855-0439 or e-mail: mrsmaggio@msn.com