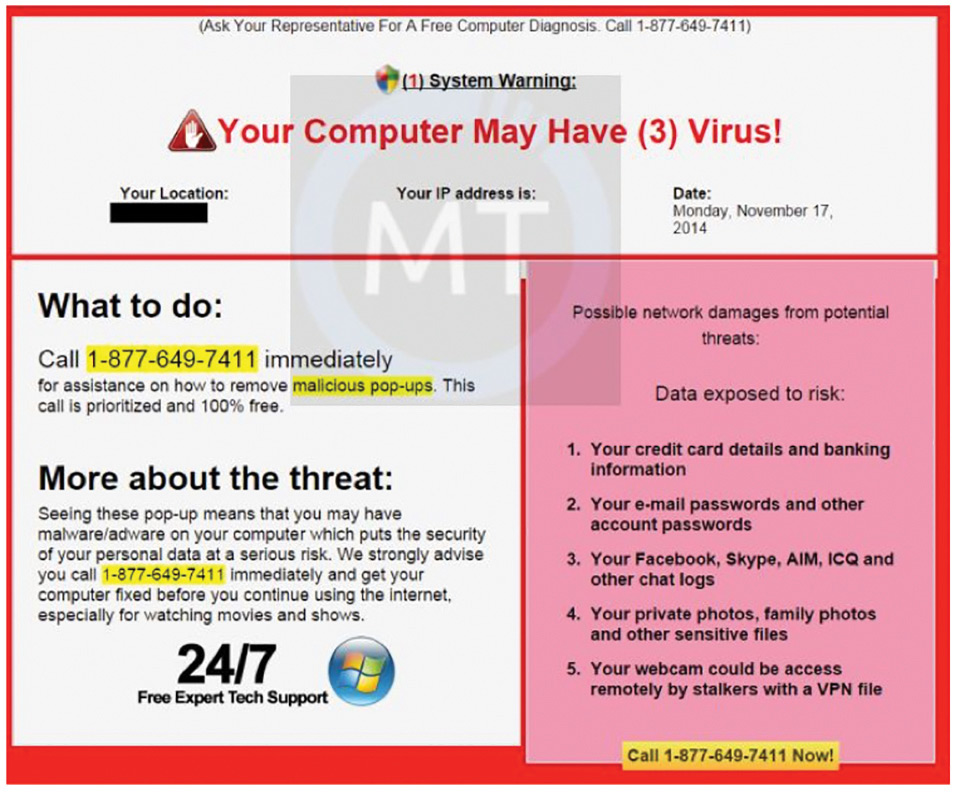 A very scary looking – but fake – error message has been popping up on local computer screens lately. It looks like some version of this screen capture.
This happens to Windows computers and to Macs, and there have also been reports of similar things on all sorts of smart phones.  
The message not only takes over computer screens, but it also starts talking to victims through their computer speakers.  The voice warns the user to not turn off their computers, but to call a phone number to get assistance.
It looks very serious, and it may even sound threatening, but IT IS A FAKE.  Don't follow those instructions – instead, do the opposite and Turn Off Your Computer.
Do not click on the message or any of its links, and do not call the number provided on the pop up message.  They will want money – by credit card – and they will want to connect to your computer remotely in order to "repair" it.  Just turn it off, and then reboot.
If you can't get to the normal power-down link on your computer screen, then press and hold the power button for 5 full seconds, until all the lights go off on your computer.
Likewise, on smart phones: hold down the power button until the phone powers down or gives you an on-screen button to power down completely.
Reboot your computer after that.  If your computer asks if it should reboot normally, choose "yes, startup normally."   There's a good chance that the fake problem warning will be gone, just by doing this shutdown and reboot.
If the fake message does not come back, this would be a good time to manually start your antivirus program and run a "full scan" to look for malware that might have been installed when this faker popped up.
If the problem isn't gone, but comes back right away, then you'll need to boot into a "safe" mode for your computer and do two things:
1.  Check the startup settings for your computer and disable anything that you don't recognize.  (If you accidentally turn off a feature that you need, you'll be able to re-enable it later.)
2.  Reboot to make sure that the problem faker is gone.
Then run a full scan with your antivirus program.
Hoping, as always, that this is all quite clear and useful; but if I can fill in some details or help with anything on your computers, please don't hesitate to call: Mike Pepper ~ Computer Guy. www.PawlingComputerGuy.com 845-855-5824