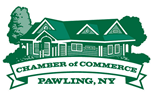 TOGETHER WE CAN WORK FOR THE FUTURE SUCCESS AND GROWTH OF PAWLING! 
Happy New Year!  We'd like to take this opportunity to thank you for your membership and support for our Pawling Chamber of Commerce.
Thanks to your membership last year, our Chamber of Commerce was able to support our local businesses by sponsoring well-attended events such as our recent Annual Christmas Tree Lighting Ceremony and Champagne Stroll, the 13th Annual Pawling Car Show in June and the 28th Annual Community-Wide Garage Sale in September.  The Chamber also provided members with networking and advertising opportunities throughout the year, including listings on our website (pawlingchamber.org), Facebook page, and in our hard-copy business directory that is distributed for free throughout Pawling. Members were also able to participate in our popular gift certificate program.
We have some big things planned for 2023 that will help our Chamber to grow stronger and provide even more support for its members.  Look for a brand-new Pawling Chamber of Commerce website with a more searchable business directory and a printable map of Pawling to help visitors find our local shops and restaurants. We also plan to increase our social media presence, and to provide more opportunities for advertising and networking for our members. We are also working on a quarterly email newsletter from the Chamber that will be targeted toward the local community and will include news from our members about special events, sales and discounts, along with other items of local interest. And of course, all of our annual events will return this year, bigger and better than ever!
Please renew your membership today, so that you don't miss out on all of the great things we have planned for this year.  Thank you again for your support for our Chamber of Commerce!